Jim Barker, Creator and Master Palm Reader
---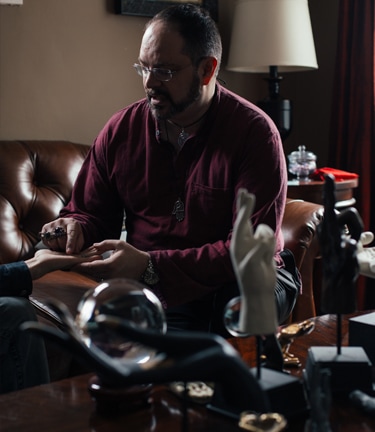 I have been reading palms since I was eleven years old and found a pamphlet on the topic in my grandparent's attic.

Through the years, I have noticed how many intuitive readings, especially palm readings, are "fatalistic" or predictive of unchangeable events. The idea that our future is set in stone, or that we are unable to change our fate is something that I strongly disagree with. It has been my lived experience, and my observations of others that we change and transform all the time.

With this in mind, I have devoted the last 20+ years on a new way to seek the hidden truths. The Divine Hand method of palmistry is the result.

​I teach palmistry in an apprenticeship program, I present workshops in my hometown of Seattle and across the country, and I am currently working on my first book on the topic of palmistry.

I am available for private readings, or as an unforgettable palm reader at your special event, party, or night out.