Brittany L. Smith, Certified Divine Hand Reader
---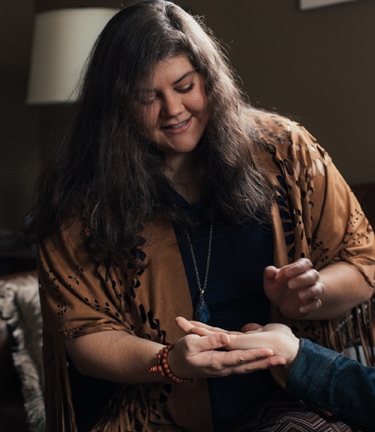 Brittany was born and raised in the Sedona, AZ area. She began her journey as a palmist at an early age - first with familial teachings, then later with research, self-teaching, and practice.

Through life and her pursuit of a career in music performance, palmistry remained a secret hobby and hidden gift. Those who received readings echoed to the accuracy she provided.

It was a message from an old acquaintance who had received such a reading that propelled Brittany to progress even further with her gift. In this message, her acquaintance stated that not only had the reading resonated at the time, but the shared words materialized months later. Her message reflected many others'.

Soon after, Brittany connected and completed an apprenticeship with local palm reader Jim Barker under the Divine Hand Method of Palmistry, and assists in teaching the Divine Hand Method to apprentices with Jim.

Brittany abides by a fair and ethical standard to give an honest, accurate, and helpful reading with an emphasis on empowerment.