The Divine Hand Modus Operandi:
My method of palm reading is different from most. It is an uplifting, affirming experience designed to help you gain a deeper understanding of yourself.
My goal is simple: to convey the greatest good possible for you. It is with joy and humility that I offer my services to those who desire an alternate point of view.
​
​About Jim Barker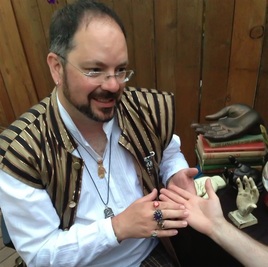 I read my first palm when I was a child, after finding a little 1950's era pamphlet on the subject in my grandparent's attic. This small pamphlet made a big impression.
Later in life, as a teenager, I began to research palmistry further and practiced the art on my friends. To their astonishment (and my own), the readings were very accurate, and I began to get a reputation for my ability to read palms.
As I became more experienced, and as I studied palmistry in earnest, I started to realize that many people are afraid of palmistry.
The common sentiment seems to be rooted in the "fatalistic" aspect that some readers seem to be insistent upon. In other words, the reader will tell you things revolving around death and danger, focusing primarily on the negative.
Though I have never practiced a fatalistic approach to readings, this realization inspired me to create an ethic of acknowledging both the perceived "good" and "bad" the aspects the character traits I see. I realized that every negative trait has a positive flip-side, and vice-versa. By having a balanced focus, I am able to help my clients see their own greatest good.
​Today, with over 30 years of experience, I am a professional palm reader in the Seattle area.