Juliette Wallace, Certified Divine Hand Reader
---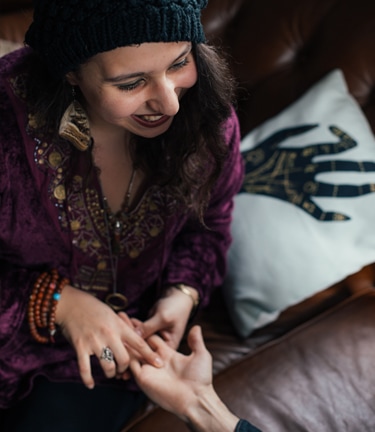 I am a palmist from the greater Puget sound area, recently completed my apprenticeship under Jim Barker & Brittany Smith in the Divine Hand Method of palmistry.

While new to palmistry I have been studying the divination arts since childhood and currently majoring in psychology. I also lay claim to being a visual artist and musician so connecting with others is nothing new.

My divination work began in Tarot, coming from a family with 4 generations of readers I learned from my mother and grandmother very early on.

I learned that to work through the waves of life, sometimes we need guidance through other means than our own, and providing readings for others is a sacred and serious honor.

When I discovered palmistry I was enthralled with the concept of working with such a personal divination system. Our hands go everywhere we do, and do everything we do, they are the maps of our own individual lives.

I hope to help anyone I work with gain personal insight and enlightenment into their own gifts, potential, and challenges so they may leave every reading feeling aware and amazed.